I

ntroduction

Hotel Overview

Home > Hotel Overview > INTODUCTION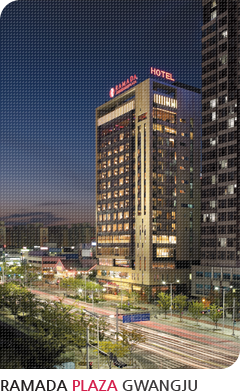 INTRODUCTION
We will engrave memory of Ramada on the mind of our guests.
RAMDA FLAZA GWNGJU IS different.
Ramada Plaza gwangju Hotel is the only premium first class hotel in gwangju
province.

It acquired the title of "Plaza", which is given only to the highest grade hotels
among Ramada brand hotels, in the strict inspection performed by Wyndham
Hotel Group, USA, by getting superior assessment in the high quality noble
exterior design, interior of the highest grade material, diverse subsidiary
facilities and the service spirit of the management team. With its modern and
high grade interior and cutting edge guest room facilities, we provide delicate
and high grade service of Ramada Plaza gwangju Hotel only. Please check the
fame of "Plaza" given only to the highest grade of hotels now.